Another Premier League season passes by and it's yet another year where David De Gea (DDG) has underlined his value to Manchester United. With a year left on his current deal, the club have more than one reason to keep him.
Consistently the best
Despite the ever-changing back four in front of him, DDG remains ever reliable. With 15 clean sheets and an 81% save percentage, he has demonstrated his worth to United and his claim as 'the world's best'.
Reaching new heights
He's stuck with United through the lows when few could have complained about a return to Madrid to win multiple UEFA Champions League trophies. Now as United look to kick-on under Jose Mourinho, they will want to keep hold of their best, and DDG certainly fits that mould.
The stats prove it
Opta's boffins suggest that this has been DDG's best season yet, with a remarkable 3.3 saves per game; his previous best was 2013/14 with 2.68. He seems to thrive in the big games and the saves vs. Sergio Aguero, Joel Matip & Alexandre Lacazette evidence this.
He's adoRED
The Spaniard is revered by United fans and has a worthy claim to being their best-ever goalkeeper ahead of Peter Schmeichel & Edwin Van Der Sar. This is reciprocated by DDG, with him stating "In England, I have a great affection and respect that I do not notice so much here (Spain)."
Competition is rife
With the record-breaking Manchester City and the high-flying Liverpool just down the road: United's noisy neighbours are growing continually noisier. Jose Mourinho will be looking to conquer England and Europe again and to do so he MUST keep DDG.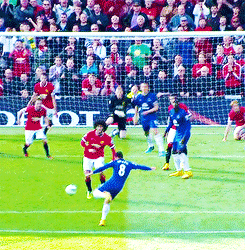 (Credit: Giphy)